By Bryce Kanights -

December 31st, 2012 11:22 am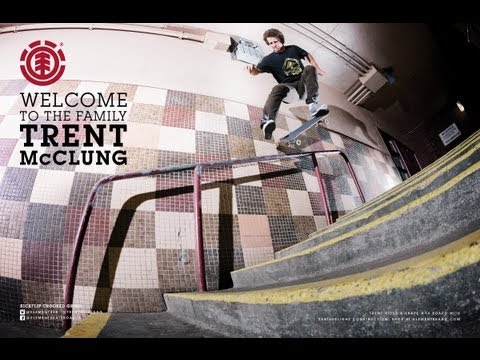 Element has proudly welcomed Trent McClung to their family of riders with his official video part.
By Bryce Kanights -

December 31st, 2012 11:17 am
Cultivated from skateboarding, art and the streets, MUSA Apparel has officially launched to embrace and exploit all American pop-culture, politics and propaganda with no cultural barriers. It's a voice of dissent. Cultural, political, and seeking to shed light on subjects shrouded in darkness due to finance, fanaticism, or fear. MUSA seeks to affect positive change through giving voice to matters that may be uncomfortable for the institutions, but are crucial for the individual citizen.
Created by 13 year skateboard industry veteran, Brian Jones, who's led various marketing roles for brands like Altamont, Emerica, éS, Zero and Mystery, Brian explains "This isn't about creating false beliefs and bullshit hype graphics on t-shirts, MUSA is meant to bring attention to issues that plague and propel this great country and embrace the belief that things can be better with a voice of direction and awareness."
Just like America, MUSA is a melting pot of everything and this will come forward in the months and years to come with new product releases. Living up to the name created, all products from MUSA will be from the American workers' hands, proudly Made in the U.S.A.
By Bryce Kanights -

December 27th, 2012 8:27 am

The last episode of King Shit Mag's Escape to LA is now online. Watch to see which of these teams ended up winning the damn thing. Catch up on all eight episodes right here.
By Bryce Kanights -

December 27th, 2012 8:20 am
On the morning December 24th, our friend and fellow skater Steve "Rocker" Anderson tragically lost his life in an avalanche at Donner Ski Ranch. The Christmas Eve slide occurred in bounds at the small Tahoe ski resort and the incident is currently under investigation.
We were fortunate for his friendship over the years and the many skate sessions shared with him. Rocker was passionate, and creative and his "go for it" spirit will continue to live on in our hearts. He will be greatly missed.
By Bryce Kanights -

December 21st, 2012 2:26 pm

Venture Trucks has welcomed Felipe Gustavo as the newest member to its team. Check out his welcome clip along with a sneak peek at his new Venture ad. Then, head over to Venture Truck's Facebook page for a chance to win a set of new Venture V*Lights.
By Bryce Kanights -

December 21st, 2012 2:04 pm
Professional skater and advocate for females on board, Mimi Knoop has been featured at Cooler Mag online where she discusses her recent travels to Argentina, her board brand Hoopla, and the push for the gals in skateboarding and more.
By Bryce Kanights -

December 21st, 2012 1:27 pm

As 2012 comes to a close, Spencer Hamilton has been proudly announced as Expedition's newest pro with a grip of new skate clips. Check out his very appropriate signature deck and footage right now!
By Bryce Kanights -

December 21st, 2012 1:04 pm