By Bryce Kanights -

October 9th, 2012 12:36 pm


Chocolat and Girl and Vice have just released this new Pretty Sweet teaser featuring Raven Tershy and friends at the Diamond Mine.
By Bryce Kanights -

October 9th, 2012 9:32 am

New York City was entertained by many of the best young guns and legends from skateboarding's bowlriding world this past Saturday. Both Pros and Masters divisions turned up the heat for the inaugural Vans BOWL-A-RAMA NYC and delivered one hell of a powerful showing for the crowds that gathered at the Hudson River Park's Pier 62 Skatepark.

In the Masters division Lance Mountain absolutely killed it and ripped into first with Steve Caballero taking second place followed by Eddie "El Gato" Elguera in third.

The Pros battled it out throughout the afternoon with the now seven time BOWL-A-RAMA winner Pedro Barros seized first place in the Pro division, followed closely by 14-year old Alex Sorgente, and Ben Hatchell landing in third place.

The week gave back to the New York skateboarding community in true Bowl-A-Rama style. The LOVE+ GUTS art show "Empty Culture", which paid homage to the accidental marriage between skateboarders and the backyard pool, broke the all time bar sales record at Max Fish which hosted the event.

The newest addition to the Bowl-A-Rama's awards ceremony was the "Spirit of Kessler Award" in honor of the late and great Andy Kessler. This special award was designated for any skater across the enitre competition that best exemplified Andy's spirit in their skating and general stoke. The legendary George Orton took out the award that was selected by Kessler's oldest and best friend Puppet and had the skaters and spectators gathered cheering in agreement and approval.

Final Results
Pros
1. Pedro Barros
2. Alex Sorgente
3. Ben Hatchell
4. Kevin Kowalski
5. Mike Owen
6. Andy Macdonald
7. Josh Rodriguez
8. Sky Siljeg
Masters
1. Lance Mountain
2. Steve Caballero
3. Eddie Elguera
4. Christian Hosoi
5. Mike McGill
6. Chris Miller
7. Pat Ngoho
8. Tony Magnusson
By Bryce Kanights -

October 9th, 2012 8:49 am

It's time to visit the Bones Brigade page right away! Along with a dedicated online space to pre-order the film Bones Brigade an Autobiography, Tony Hawk, Lance Mountain, Mike McGill, Steve Caballero, Tommy Guerrero, George Powell and Stacy Peralta have all pulled some unique, one-of-a-kind items out of their personal collections and made them available alongside the film on BonesBrigade.com.

You'll find items like trophies, signed magazines, a personally used skate deck from Tony, McGill's personal Powell Peralta jacket, hand-made scooters from Lance and more. They've priced these items on what they believe is the going market-rate because they want collectors to obtain them and not flip them on Ebay, as they are all very special skate items of significance.

Drop on by and have a look!
By Bryce Kanights -

October 9th, 2012 8:34 am

KingShit Mag – Escape to LA
By Derek Rinaldi -

October 5th, 2012 7:52 pm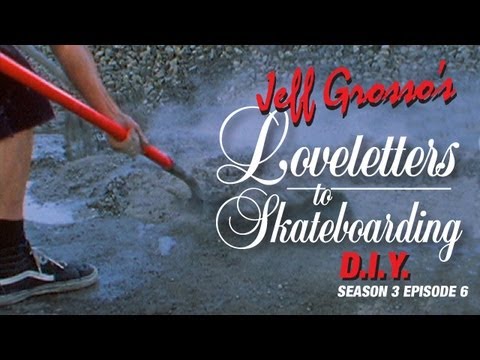 From Burnside to your local Jersey Barrier, skaters have been throwing down concrete to make skate spots for years. Grosso sits down with the guys from the DIY Channel Street Skatepark in San Pedro, CA to say thanks to everyone who gets dirty making new places to ride.
By Derek Rinaldi -

October 5th, 2012 7:48 pm


REAL released an all new deck today made up entirely of photos tagged with REAL Skateboards on Facebook, Twitter, and Instagram for the first ever deck designed 100% by you. Check out the video and see who's photos made the deck.
By Bryce Kanights -

October 3rd, 2012 9:32 pm
Vans and Metallica have introduced the limited edition Vans x Metallica 20th Anniversary Half Cab Pro available this month in better skate shops everywhere. In early October, skate shops around the world will receive the latest release in the year-long celebration marking 20 years of the most popular skate shoe of all-time, Steve Caballero's signature Half Cab. The heavy-duty canvas and suede "black to the floor" Metallica edition of the Half Cab Pro features classic band lyrics embossed in the side, exclusive Vans x Metallica x Steve Caballero labeling and a unique clear rubber sole with Kill 'Em All album artwork showing through.
"To have Metallica, my all-time favorite metal band, collaborating with me on this 20th anniversary Half Cab shoe is an honor and a dream come true," said Vans' skate legend Steve Caballero. "I'm very stoked that Vans is working with such a legendary band and the Half Cab is just the beginning."
The Vans and Metallica partnership will continue in Spring 2013 with two product drops: a four-piece "Passion Project" collection designed by each member of Metallica coming in February and a two-shoe salute to the band's debut album, Kill 'Em All, delivering in March.
By Bryce Kanights -

October 3rd, 2012 9:21 pm

Ryan Spencer Dekline Commercial